About Us
ReelFlyRod.com is a premier, full-service fly shop located in Ohio, in the Midwest United States. Our Pro Staff is extremely knowledgeable, helpful, and passionate about fly fishing. We are 100% commited to providing the best customer service you will ever experience anywhere! Our philosophy is simple: "Take Exceptional care of every customer, and they will become a lifelong customer and tell all their friends." This is how we have created a loyal following of customers in over 120 countries around the world! We will respond to all emails, inquiries, and phone calls very quickly. Any order can be customized to your specifications, including free loading of reels and proper rigging of outfits.
ReelFlyRod.com is an Authorized Dealer for the finest fly fishing manufacturers in the world including: Sage, R.L. Winston, Simms, Patagonia, Tibor, Waterworks-Lamson, Redington, Ross Reels, Korkers, Fishpond, Umpqua, RIO, Scientific Anglers, Dynaking and more! We also offer Professional Guiding Services on the southern Ohio river systems. All the equipment we sell is new, factory-built gear with the manufacturer warranty cards. Thank you for supporting your locally-owned, independent fly shops!
Personalized service, unmatched expertise, outstanding value. ReelFlyRod.com
"Your Local Fly Shop to the World!"
Fly Shop Hours: Monday - Friday 9:00am - 6:00pm, Saturday 12:00-5:00pm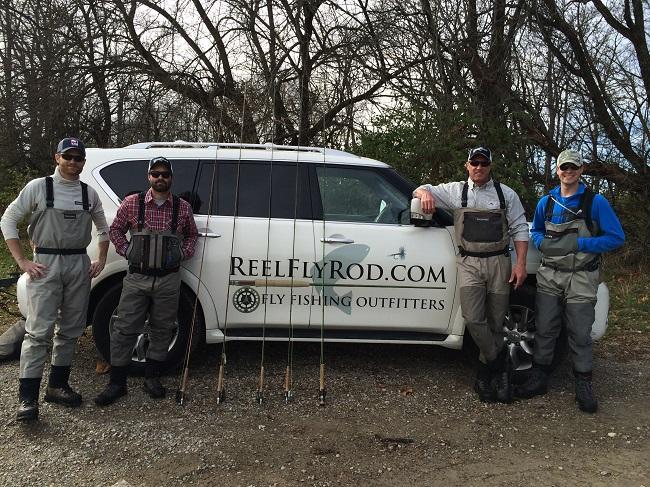 The ReelFlyRod.com Pro Staff (from left): Kyle Brown, Matt Parker, Todd Mikesell, Jacob Goetz.
We want to provide you with a Best Ever customer service experience! Your items will be carefully packaged and ship within 1 business day. We also guarantee your 100% satisfaction with our products and superior customer service. Once you experience our exceptional, personalized service, we are confident that ReelFlyRod.com will become your primary "go to" fly shop for all your fly fishing needs!
ReelFlyRod.com is proud to offer *Free Worldwide Shipping* on ALL orders of $500 USD or more! (Oversized orders may incur a shipping charge)
100% Satisfaction Guarantee: If you are happy, then we are happy! We will do whatever it takes to make sure you are completely satisfied with our service and our products. In the nearly impossible event that you are not 100% satisfied with your purchase for ANY reason at all, simply return the items to us in their original packaging within 30 days for a full refund, less shipping costs.
Most Orders Ship Within 1 day via USPS Priority Mail, or USPS Priority International Mail. Fed Ex and UPS shipping is also available upon request (may incur additional shipping costs.)
We Ship Worldwide! For Orders outside the U.S. & Canada, please follow the simple steps listed under International Orders or email your order to: info@reelflyrod.com.
ReelFlyRod.com E-bay Store: (Click Here). International Customers may also order directly from our Ebay Store using Paypal.
United States Shipping Costs:
ALL Orders ship Free in the United States! Unlike other fly shops, there is No Minimum Purchase Required!
Canada Shipping Costs:
Shipping Costs to Canada are $34.95 USD. Orders of $500 USD or more ship Free to Canada!
Worldwide Shipping Costs:
ReelFlyRod.com ships to over 200 countries! We offer Free Worldwide Shipping on All Orders of $500 USD or more! International Shipping Costs for orders under $500 USD are just $49.95 USD, regardless of order size or weight!