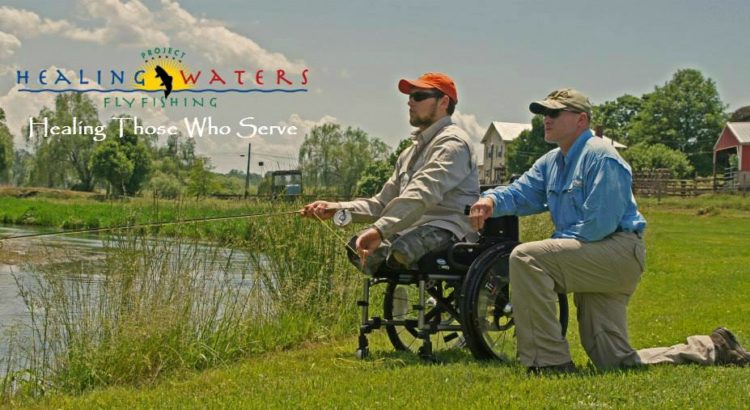 Project Healing Waters Fly Fishing (PHWFF) was founded by Ed Nicholson, a Vietnam veteran who developed the idea for the organization after a 2004 visit to Walter Reed Army Medical Center (WRAMC). What began as a desire to introduce fly fishing to recovering injured and wounded service members returning from combat in Iraq and Afghanistan soon blossomed into a project that now encompasses not only the recovering warriors of Walter Reed, but other veterans with disabilities at 177 programs at Military and Veterans hospitals, nation-wide. The organization is committed to helping service members and veterans with disabilities enjoy a better life, through participation in fly fishing education and outings and, more importantly, in building lasting mentoring relationships that will follow them as they transition to civilian life.
Project Healing Waters brings a high-quality, full-spectrum fly fishing program to an ever-expanding number of disabled active military service personnel across the Veterans Affairs Healthcare System, in Military Hospitals and the Warrior Transition Command. We focus our resources wherever the need is greatest and expand our partner base in the process. PHWFF has become recognized as an innovative leader and model in the field of therapeutic outdoor recreation for the disabled, through its successful application of the sport of fly fishing as a rehabilitation tool.
Project Healing Waters Facts:
PHWFF currently has 230 programs serving disabled veterans and disabled military service personnel across 48 states.
PHWFF is a volunteer-run organization and relies on the generosity of both private and corporate donors. PHWFF also solicits foundation grants and government funding.
PHWFF programs are associated with and draw volunteers from Fly Fishers International clubs, Trout Unlimited chapters, and Independent clubs.
Program activities include fly fishing education, fly tying classes, fly casting classes, fly rod building classes, and fly fishing outings.
In 2019, 277,256 hours were donated by over 3,751 PHWFF volunteers. This enabled more than 8,593 disabled veterans and disabled active military service personnel to participate in PHWFF program activities at no cost to the participant.
For more information, please visit their website at: www.projecthealingwaters.org.