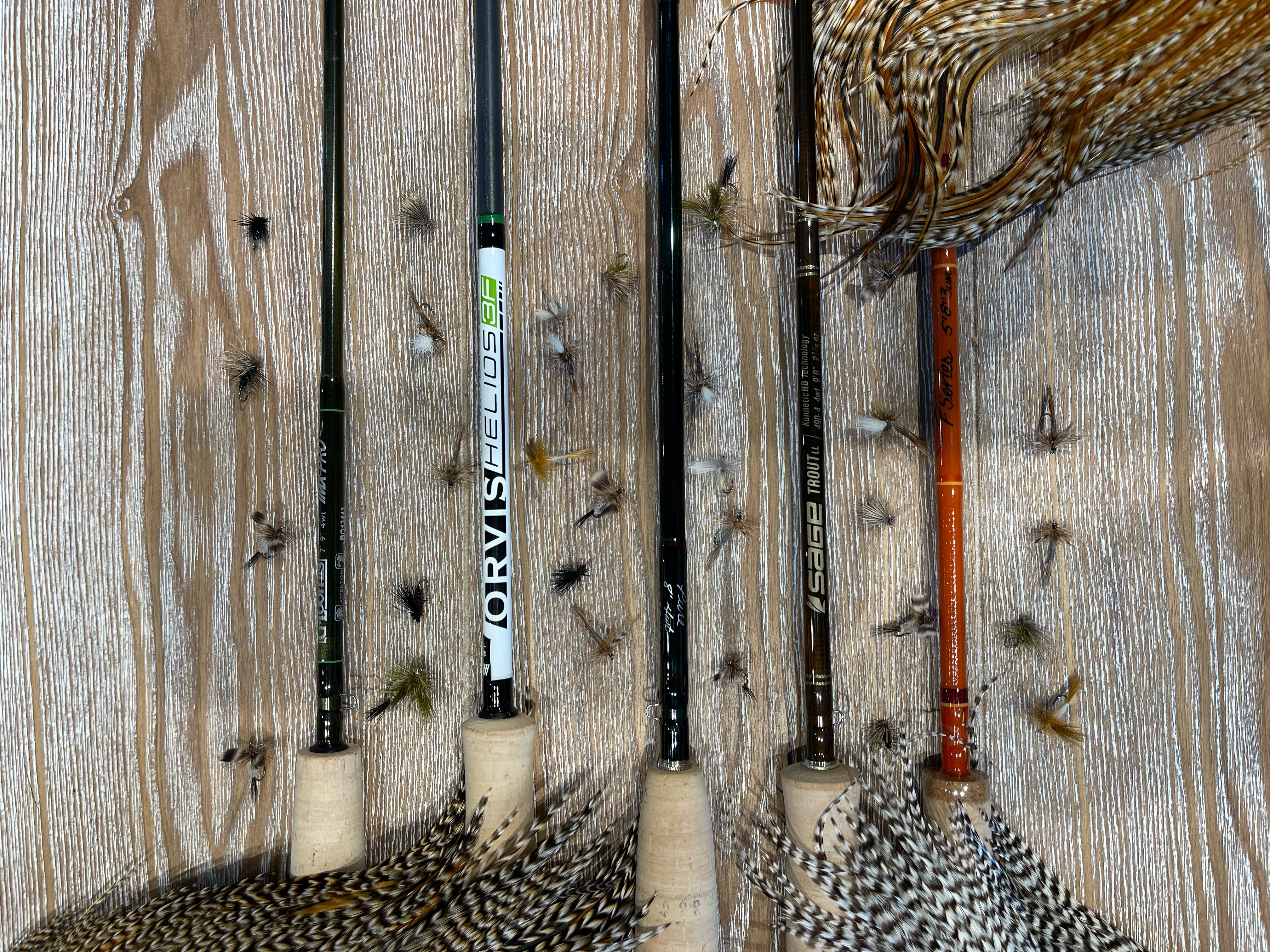 To a fly fisher there may be nothing more satisfying than a trout sipping dry flies on the top water. For the staunchest traditionalists and purists of the sport there is no other way than using dries to catch their query. Most anglers start fly fishing with a dry fly rod because the speed and flex of dry fly rods are best for learning casting strokes on.
What makes a good dry fly rod?
Speed
Dry fly rods often have a slower swing speed than other rods, slower rods give a more delicate presentation to softly and more naturally land flies on the top water. If the presentation of your fly is too fast or lands too hard, it can spook trout (who are much smarter than many anglers give them credit for).
Length
Short Rods - If you can get away with a short rod that still provides the distance and presentation that you desire, then you should use that shorter length.
Long rods - There is something to be said about the usefulness of a 10-foot dry fly rod. A longer rod will give you a little longer reach but it will also give you the ability to lift you line out the water which will give more natural drift to your fly as it floats through the current. The 10'0" rod also also you to more easily mend line as you continually feed your fly to the top of the current.
If you are considering getting a graphite rod, the most common lengths that will be used will either be 8'6" or 9'0" in length but don't discount the 10'0" rods out there if you're on wide water. These lengths give anglers the flexibility for soft presentation on any size river or creek. But you definitely need to take into consideration the width of the river that you are going to be visiting. If you're hitting The Driftless you can find a high-performance graphite rod in a shorter length like those under 8'0".
Fiberglass rods give the flexibility to choose from a much wider selection of lengths due to the unique nature and construction of fiberglass. There are some great smaller glass rods on the market that should be attractive to fly fisherman that are more likely to find themselves on smaller waters with lots of overhanding branches and vegetation. Glass rods in the 1- to 3-weight range can easily be found in lengths between 6'0" and 7'6".

Flex
The best dry fly rods will have a fair amount of flex in the middle of their blanks and have a soft tip. Just like rods with a slower swing speed, a dry fly rod should have a softer tip to lay down dries with delicacy and finesse. The need for a soft tip is where and why fiberglass rods have always been popular amongst dry fly anglers.

Graphite or Glass?
The age old question, the old guard may never have made the move from glass rods to graphite, and they did so for a very good reason. Glass rods offer the angler a slower presentation which helps with softer presentation of delicate flies. For a time, the novel and speed of graphite had taken over the fly fishing world as the new technology offered new styles of angling that were not previously possible with bamboo or glass.
Glass has recently been experiencing a Rennaissance in the world of fly fishing as manufacturers all over have added high-quality, high-performance glass rods back into their product lineups.
Ultimately the only one who can make the choice on the right rod is you. If you're considering buying a new rod, go to your local shop and cast a couple with a few different lines to determine what path you want to take.
How do you choose a dry fly rod?
Taking all the above information into consideration, you also need to consider the type of waters on which you will be using your rod. Stillwater requires much different characteristics from rods that are going to be used on wide, fast rivers; and those anglers hitting bluelines may require shorter rods with more flexibility.

Do you want a rod for small streams? A rod for fast wide river? Maybe a stick that is a good all-arounder?
These are all questions that need to be asked when buying a new rod for your quiver.
Our Favorite Dry Fly Rods of 2022
*In no order
Sage Trout LL - The best trout rod in the vaulted Sage lineup. The Trout LL is a medium-action fly rod designed for one type of species and one type of fly in mind, trout and dries.
Winston Pure - This medium-fast action rod from R.L. Winston might not be the flagship of the Winston's lineup but it is definitely our favorite dry fly rod. Delicate touch with distance shooting, pair this with the RIO Technical Trout for the best matchup. Winston nailed the 4-weights in this series, with the 9'0" taking the cake as ReelFlyRod's preferred dry fly stick.
Scott Centric - More of an all-arounder than other rods in this list, the Scott Centric is also possesses the fastest action here. The best line speed among rods in this list. If you're looking for a rod that allows you to take advantage of small windows of opportunity, make it the Scott Centric.
Orvis Recon 8'4" 3-weight - One of the most popular weight/length configurations in history, this is one of the rods for dry fly purists. Highly accurate and soft presentation on this rod that was built off of the old Helios2 technology. Supreme dampening to protect 6x and 7x tippet used for spookish trout.

Sage Sonic - A perfect blend of power and speed make this lightweight rod from Sage an attractive rod for dry fly trout anglers. The powerful backbone means that this rod can also serve double-duty for heavier double rigs and smaller streamers.

G. Loomis Creek - Available in 2- through 4-weights and in a 7'9" four-piece configuration means that this rod is the rod for small brookies when you're still in need of a little reach. Perfect for quick loading and hitting precise spots in tight windows.

Orvis Helios 3F - The Helios 3F, with F standing for 'Finesse', is the premier rod in the impressive Orvis lineup. The Helio 3F gives the angler precise accuracy and delicate feel throughout the rod blank. The Helios series of rods has always boasted top-of-the-line power that gives the angler extra reach on wider rivers.

TFO Blue Ribbon - Perfect for the freshwater angler who needs to effectively cover water with repeated casts over the course of the day. The Blue Ribbon series is designed to load easily with minimal back cast allowing the angler to make quick accurate casts with very little effort. A medium-fast action rod perfect for a variety of trout location.

Orvis Superfine - Voted the best fiberglass rod by Fly Fisherman magazine, the Superfine offers the feel, accurate casting, and the classic bend fiberglass fly rods are all about. Ideal for small creeks and rivers and close-range casting.
Redington Butterstick - A super popular rod among the ReelFlyRod Pro Staff, the Redington ButterStick is as classic as glass rods get. Vintage looks with modern glass performance. It is on the slower end in relation to most of today's products but it is such a pleasure to cast.

Echo River Glass - The Echo River Glass is the perfect fly rod for the small to medium sized creeks and streams. Going after trout, the 5wt is the perfect choice for action and power for some of the larger flies on a fiberglass stick. With a smooth recovery and deep loading, the Echo Glass will be a favorite on your hometown stream.

Scott F Series - These rods make precision casts and flawless presentations with only a few feet of line outside the rod tip, and are great for underhand, bow & arrow, and other unconventional deliveries into impossibly tight situations. Scott F Series fly rods load deeply under the pull of small fish, transmitting amazing fish fighting feel.

Check out our YouTube Video on How to set up a "Dry Dropper Rig"