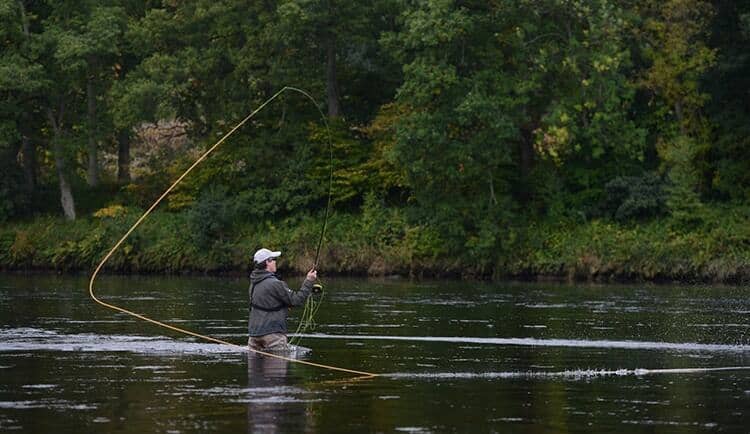 A great rod for all-around action that will be applicable for most Steelhead scenarios. The Switch rod will typically range between 10'6" and 12'6' long, the modern switch rod was designed for those rivers where you may have the trees right at your back and you do not have much room to maneuver. The primary goal of a switch rod is to allow the caster the ability to achieve maximum targeted forward distance with the least amount of expended energy, while maintaining a functional rod length for line management and fish fighting.
Why Choose a Switch Rod?
Like previously stated, the primary purpose of the switch rod is to enable the caster to achieve longer distances in places where there may not be much room for a back cast. An added benefit of the switch rod is that the shorter length still allows the angler to utilize single-handed casting techniques if they are really needed, unlike spey rods which are limited to the use of two hands. While still quite heavy, the switch rod can be casted with a single hand in a pinch.
Yeah, that name may be a little bit of a misnomer to some, but the Shortspey is one of the best switch rods on the market. Topping out at 11'11", the G. Loomis Shortspey are the longest of the rods on this list and are reaching just into that spey rod region. These rods are lightweight, powerful, with smooth fast-actions, and really impressive line feel.
These forgiving fly rods offer impressive line control and excellent reach so you can hit the far bank of big salmon rivers or drop smaller flies with precision. Cast all day: Mission rods may be lightweight, but each is a casting powerhouse. The two-handed Mission collection includes compact fly rods to manage tight spots, versatile models that swap between big and small waters, and big-water beasts capable of heaving hefty patterns to voracious trophy fish.
Temple Fork Axiom II Switch
The successor of the crowd favorite Deer Creek rods and the winner of the 2019 European Fishing Tackle Trade Exposition for the best new rod, the TFO Axiom II Switch rods represent one of the best cost-to-performance ratios on the market. Phenomenal performance at a mid-level price represents the modus operandi of the Temple Fork Outfitters name.
The Axiom II switch rod offers the optimization of the benefits of two-handed or spey style casting, but with a shorter lever, (to accommodate medium sized water, or tight-quarters fishing out of a boat). Because of the unique double-helix of Kevlar embedded within the blank, anglers can maintain load and easily cast heavy sink tips, long scandi lines and indicators or lead without fear of lost distance and rod performance.

Redington Claymore
The newest series of rods from the Redington lineup, the Claymore takes what was learned from the Dually II and the Chromer rods. Redington put together a supremely tough switch rod in the Claymore without having the rod feel like it weighs a ton. The Claymore will find itself at home making quick touch-and-go casts on rivers when you may not have much room for any back casting motions. The matte grey blank and polymer-tipped cork that aids in pinching while handling running lines. An eye-catching rod that has the performance to back up its looks.

Redington Dually
With a smart, matte bronze finish, the Redington Dually is certain to stand out on the water. Making improvements on their first Dually model, Redington has made as strong and proficient switch rod that won't break the bank for those anglers that are looking to get into Steelhead. The Dually is one of the better price points for switch rods which makes it the perfect rod for anglers looking to dip their toes in to switch casting while not breaking the bank to sacrifice performance.

TFO Legacy Switch
The LK Legacy TH series was designed for intermediate to advanced anglers seeking faster blanks that deliver more efficient line movement and more recovery crispness. These rods can pick up longer, heavier fly lines and tips with minimal effort and a unique touch-and-go feel. Backed by the peerless lifetime warranty, the LK Legacy should be on every angler looking to get started in switch rods.
Echo Switch Rods
Among many other successes, Echo knows a thing or two about switch and spey rods. Echo boosts one of the deepest and the widest selections of two-handed rods in the game. Echo is legendary for building exceptional, high-performance two-handed rods that rival the best rods on the market, at a much lower price.

Echo SR
Their previous knowledge and success were translated into the Echo SR Switch rod. Available between 10'6" and 10'10" lengths, the Echo Switch is equally as capable of casting one-handed or two-handed in places where you need to have maximum versatility.

Echo Swing
The new Echo Swing Switch and Spey Fly Rods feature crisp actions and perfect power to fit a wide range of casting strokes and fishing situations without breaking the bank. Unique switch rod sizes are dialed in for real fishing situations where you need serious backbone but don't have the space for a full-sized spey.
The Orvis Clearwater Switch Fly Rod is made to swing flies for steelhead, turn over indicator rigs, provide incredible line control and mending ability, and cover big water with ease. The versatile Clearwater excels at overhead casting or single-handed when in a pinch, then switch to a two-handed technique in tight quarters or swing flies on long runs. The Orvis is the perfect introduction to learn two-handed casting and performs equally well using a variety of casting styles.