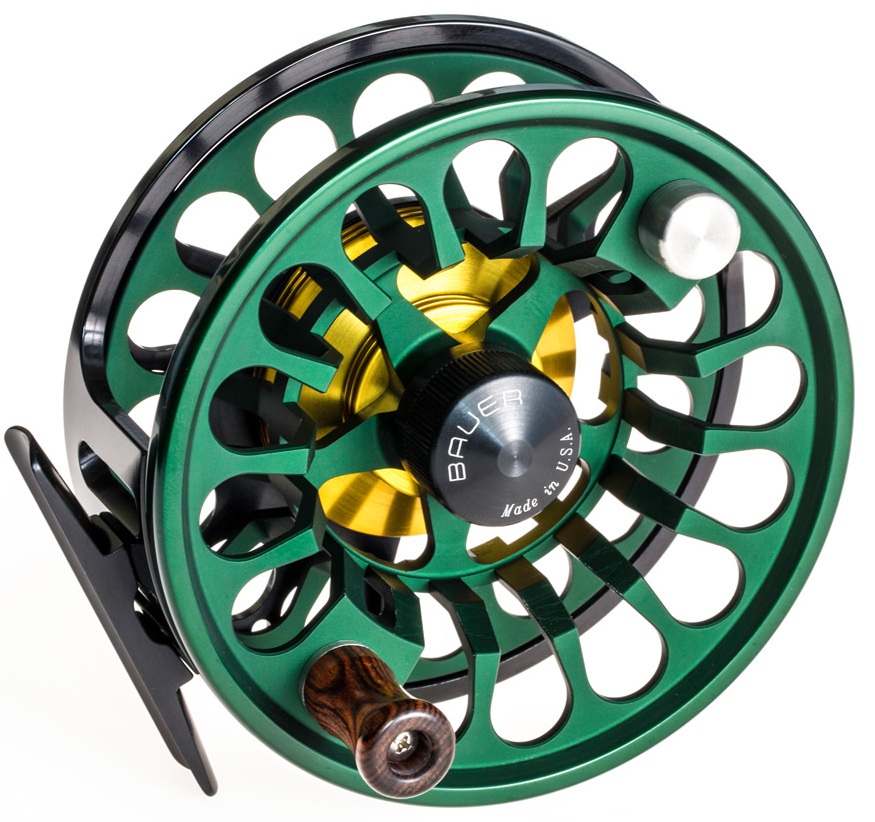 BAUER RX FLY REEL REVIEW

In 2017, ReelFlyRod introduced Bauer Fly Reels to our long list of great fly fishing brands. The decision was easy as Bauer Fly Reels truly makes an incredible, fully machined, ultra-smooth drag system reel. Now under the same roof as Winston, Bauer Fly Reels will provide our clients award winning design and function for years to come.

Bauer revolutionized the fly reel world in 1995 with an award-winning design that combined superior large arbor performance with an innovative yet simple zero-backlash drag clutch. With a background in race cars and precision technology, Jon Bauer used his formula one racing background to bring a fresh perspective on how a fly reel should work. By applying principals of basic physics, he came to an obvious conclusion: the best design for a direct drive fly reel was one with a large arbor spool that minimized the variance of moment arm effect. The result was a reel with vastly improved line handling and retrieval, as well as superior drag performance. Over the years, Bauer has continued this tradition of design evolution, precision engineering and unmatched performance. Today, these reels are considered to be among the finest made and have earned a reputation among serious anglers and guides as the "Swiss watch of fly reels."
Look and Feel – This reel looks and feels extremely solid. Simply pick up this reel and you can tell that alot of thought has gone into the machining. This reel emanates quality on every level. On a functional level, the reel boasts a nice large drag knob that is easy to adjust on the fly as needed.
The Drag – The drag is easily adjustable on the fly and is plenty stout to stop just about any flats fish that it tangles with a maximum setting of 10lb+ of useable drag resistance. We were was able to put a dozen or so bones and a couple permit on the reel during this first trip and the drag within the RX was stout, exceptionally smooth, and flawless bringing those fish to the skiff.
Backing Capacity – This reel has a ton of backing capacity which I found to be surprising for a reel of its size. With the Airflo Tropical Punch line mentioned above I was able to utilize 225yds of 30lb backing.
Spool Seal & Lock – The Bauer RX series features a spool release that uses a series of pins to insure that the system in stable, sealed, and locked into place before use. If these pins are not seated correctly, the reel will not function and freespool accordingly. Although this sounds annoying, it certainly provides peace of mind knowing that the reel is secured and ready for action at a moments notice.
Here is a quick video that Bauer just released this past winter. Enjoy! If you have any questions, please give our pro-staff a call at the fly shop 937-434-8472. Lately, we have been testing the RX and SST reels out both on fresh and saltwater conditions!
Related Posts and Information