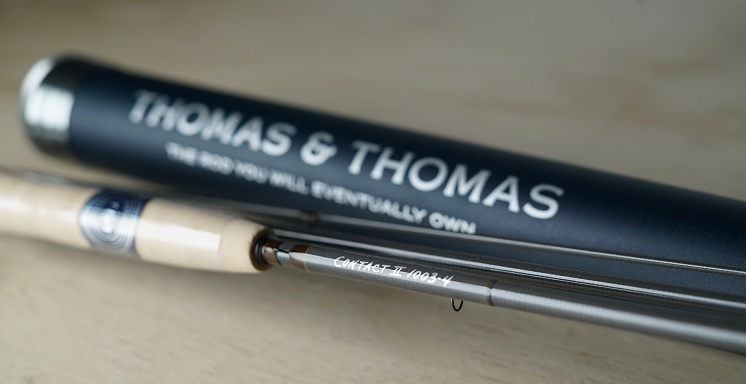 Lauded the world over for their exceptional performance and intricate craftmanship, Thomas & Thomas has carved out place among the best rods in the world.
by Thomas Nugent • June 20, 2022
---
ReelFlyRod is happy to announce the addition of Thomas & Thomas to our vaunted lineup of high-quality and trusted brands. The brand is known for producing some of the highest performance and most exceptionally handcrafted rods in the world. Based out of Greenfield, Massachusetts, Thomas & Thomas is dedicated to making some of the finest rods on the planet and they stand by their company slogan, "The Rod You Will Eventually Own".
Thomas & Thomas boasts a complete lineup of rods that cover nearly every fly fishing situation and technique. Euro Nymphers will love the sensitive Contact II, Saltwater has the powerful Sextant, Dry Fly Purists will appreciate the presentation of the Paradigm, Bass and Esox chasers will find high-performance in the Exocett series, trout fishers will love the Avantt for every situation, the Lotic brings the classic feel of glass into the 21st Century, and the Zone is perfect for filling out any gaps in the rod quiver with a high-performance stick.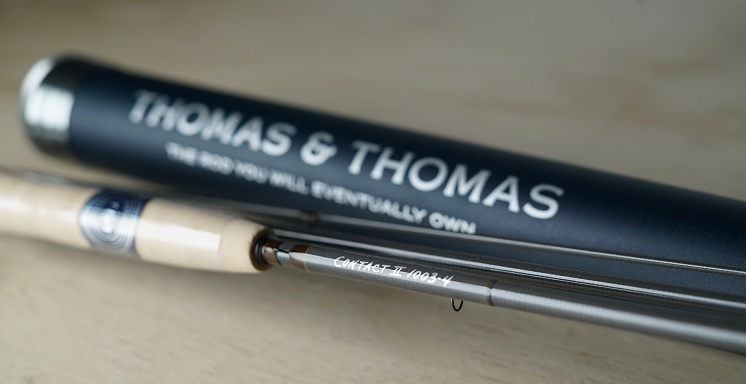 The flagship rod of the vaunted Thomas & Thomas lineup, the Paradigm was tailored for the specific mission of creating the ultimate presentation rod. Dry fly fishing is considered among the most technical of all fly fishing techniques and that is why it is important to have the correct tools for the job. The Paradigm is hand-crafted in Greenfield, Massachusetts by skilled rod building artisans. The 2020 Paradigm was revived from the original Paradigm which was hailed as one of the greatest dry fly rods ever produced. While this rod isn't going to be the best at throwing small streamers or nymph rigs, the Paradigm is going to throw one mean dry fly to trout sipping off of the surface.
Features:
Lightweight Titanium finish Single Foot REC guides
Matte Titanium finish roll-stamped hardware
USA sourced Bird's Eye Maple spacers
Beautiful new semi-gloss blue surface finish
Hand-written logo, serial numbers, and additional visual accents
Ultra-light rods with smooth, medium flex action for exceptional presentations.
Models: 8'2" 3wt, 8'4″ 4wt, 9′0" 4wt, 9′0" 5wt, 9′0" 6wt

The top of the line when it comes to all-around trout rods. Equally capable of softly laying down dries, swinging streamers, or throwing double rigs, the Avantt is a great choice for anglers looking to expand their trout tactics while not sacrificing performance in any one area. With ultra-low swing weight and lightning-fast recovery, these rods come alive in the hand. At close range, the Avantt rods provide precise command of the fly with a delicate touch. Longer casts reveal surprising power and line speed with tight loops and excellent line control. While many rods only excel in a single aspect, their performance suffers in other areas, the Avantt is the do-it-all rod that will not let you down in any situation.
Features:
Four-piece multi-modulus graphite blank incorporating Thomas & Thomas' latest proprietary composites and curing process.
Low Friction Finish (LFF) in stealth matte 'T&T Blue'.
Titanium-frame ceramic stripping guides and Snake brand ECOating guides.
Black Ash Burl up-locking reel seat.
Blue wraps with white accents.
Grip of Flor-grade cork.
906-4 Standard with western grip, full-wells grip and fighting butt optional.
1004-4 Standard with full-wells grip and fighting butt, western grip optional.
Models: 8'6" 3wt, 8'6" 4wt, 9'0" 4wt, 9'0" 5wt, 9'0" 6wt, 9'0" 7wt, 10'0" 4wt, 10'0" 5wt, 10'0" 6wt

Every component of the T&T Contact II was designed to put the angler as in-tune and connected to the fly as possible. The unsanded blank prevents line from sticking to the rod, single-foot guides which keep your line from sagging when high-sticking, high-density cork gives sensitive feel to the tip of the rod, down-locking reel seat to balance the length of the rod, and a strong backbone for lifting hook sets.
Features:
Optimized guide spacing with lowered stripping guides to decrease line sag between the hand and first guide
Increased backbone power to improve hook sets and assist landing larger fish
Extra dense premium Flor grade cork grips increases feel and bite transmission
Black RECoil single foot snake guides
Black hook keeper and winding check
Black "Low Rider" style stripping guide keeps line tighter to blank for improved strike transmission and accuracy
New low-profile rounded fighting butt for balance and comfort
Stealthy brown and olive thread wraps.
Downlocking reel seat standard on 2wt to 4wt models
Models: 10'0" 2wt, 10'0" 3wt, 10'9" 2wt, 10'9" 3wt, 10'9" 4wt, 11'2" 3wt, 10'8" 6wt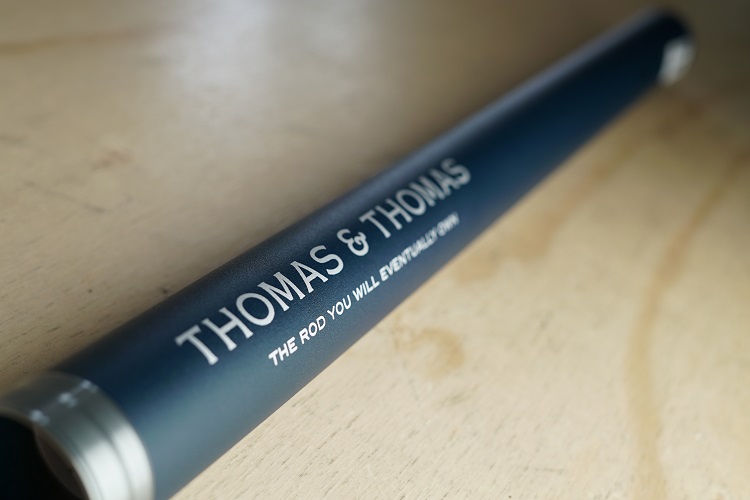 The Sextant series of rods brings anglers an A+ lineup. These rods are light, crisp and extremely smooth. The entire Sextant rod family shares a smooth loading, quick recovery action that allows for precise accuracy at short distances without sacrificing the power and backbone necessary for punching flies at longer distances through the wind. The lower weights of this rod series are extremely capable of pulling double duty with some of the smaller freshwater species like bass, carp, and pike.
Features:
Premium high-quality Flor-grade cork handle
Semi-gloss blue finish with dark blue primary thread wraps and seafoam green accent wraps
Titanium frame Stripping guides with premium silicone nitride inserts
Natural finish Nickel-Titanium RECoil snake guides
Matte Titanium finish uplocking anodized reel seat
Models: 9'0" 6-12wt
The highly versatile Exocett SS rods are designed to counter the inherent challenges of casting sinking lines or ultra-compact floating lines. Powerful rod tips help to easily pull sinking lines to the surface, while the steep multi-modulus blanks dampen excess shock associated with heavy lines or weighted flies, generating distance and accuracy with fewer false casts. The exceptionally low swing weight of Exocett SS rods amplifies the sensation of hooking and fighting fish. The Exocett SS rods are designed with a grain window which makes it easier to find the perfect line to compliment the features of the rod.
Features:
4-piece multi-modulus blank with stealth matte "T&T Blue" Low-Friction Finish.

Titanium frame stripping guides with ceramic inserts.
RECoil titanium alloy snake guides.
Ultra-premium cork, full wells grip.
Matte black milled aluminum up-locking saltwater reel seat.
Models: 8'8" 160gr, 8'8" 200gr, 8'8" 250gr, 8'8" 350gr, 8'8" 450gr
Exocett Predator
Designed to meet the highly specialized needs of taking down freshwater monsters like pike and musky, the T&T Exocett Predator is up for the task. Heavy lines, heavy flies, and heavier fish are the name of the game of the T&T Exocett Predator. This rod was made for the most serious anglers that have taken the dive into the world of long days on the water, thousands of casts, and those that need a tool to match their perseverance. The Exocett Predator is designed with a grain window to accommodate lines from a typical 9wt all the way up to a 12wt.
Features:
Matte black stealth aluminum reel seat
9'4" length to help getting distance from a boat
Powerful rod tip
Elongated full wells handle
Rubberized, high durability, composite front handle.
Gunsmoke colored RECoil Snake Guides
Black Titanium stripping guide
Elongated fighting butt for playing fish boat side
T&T's proprietary Strato-Therm resin so the rod can absorb the most vicious boat side attacks
Models: 9'4" 350-500 grain
Lotic
The perfect blend of balance between the grace of traditional glass with the power and performance available in modern technology. The Lotic earns high marks and a place among the finest high-end glass rods available. The Lotic will give you that old school feeling of a glass rod with a more refined, crisp action that is expected of modern rods. This rod is available in the most popular trout weights and is ready to make picture perfect dry fly presentations.
Features:
Progressive three-piece fiberglass blank.
Western grip.
Bright milled aluminum up-locking reel seat with cork spacer.
ECOating snake guides.
Models: 6'10" 3wt, 7'4" 4wt, 7'10" 5wt
The Zone series pushes the envelope in both performance and price, bringing the latest R&D from Thomas & Thomas to more fly anglers than ever before. Sharing the advanced StratoTherm resin developed for the acclaimed Avantt and Exocett series, Zone rods are rolled and built by hand alongside those flagship models right here in our Massachusetts, USA facility.
Features:
3wt-4wt Medium/fast action 5wt-10wt fast action.
Natural finish carbon appearance.
Clear anodized premium aluminum hardware.
Blue fiber reel seat hand rolled at T&T.
Composite reinforced premium-quality cork grips.
Titanium frame stripping guides with Zirconium inserts.
T&T Blue thread with silver accent wraps.
Models: 7'6" 3wt, 8'6" 4wt, 9'0" 5wt, 9'0" 6wt, 9'0" 7wt, 9'0" 8wt, 9'0" 9wt, 9'0" 10wt, 9'6" 6wt, 10'0" 4wt, 10'0" 7wt
---