Some new members have joined the ranks of our Angler of the Month Program. The ReelFlyRod Pro Staff is proud to announce that our October Anglers of the Month are Cari and Jim Vota!
We've done a bit of globe hopping with some of our recent Angler of the Month selections, so we are especially happy include some of our favorite locals. Jim and Cari are avid members of the Buckeye United Fly Fishers (BUFF) Club. The purpose of the BUFF is to promote the preservation, conservation and wise use of our fishing waters and game fish; and to assist in the protection and improvement of our natural resources.
These two are frequent customers of the shop and we are always happy to help outfit them to make the most of their trips! Cari and Jim were kind enough to answer some our questions about their experiences with fly fishing and ReelFlyRod over the years. We hope that our interview with these two gives you some insight into some of the best pike and musky anglers that we know.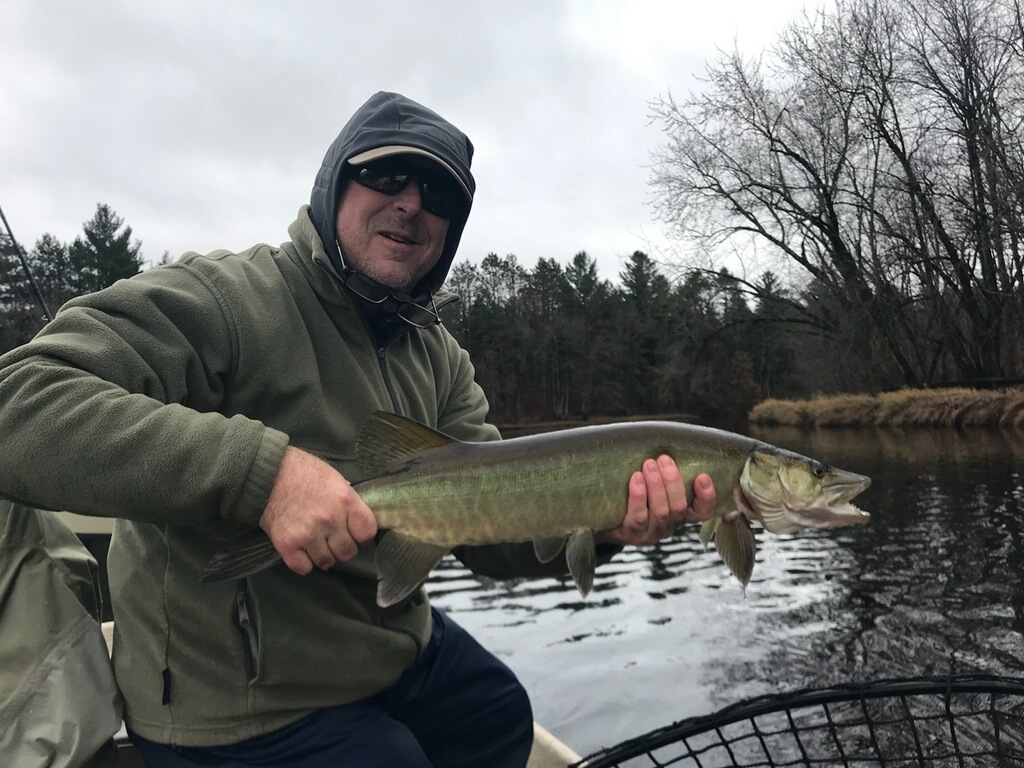 Where are you located and which bodies of water do you fish?
We live in the Cincinnati area. Where do we fish? Locally we fish the Little Miami River, East Fork of the LMR, Caesar Creek Lake, the Great Miami river and tributaries, Mad River, White river and Brookville tail waters. Out of the area we like Lake St Clair, anywhere in the MI UP. We're not picky.


What Species do you target? Which do you target most?
We fish for almost anything. Smallmouth, large mouth, hybrid stiped bass, crappie, bluegill, trout, pike, musky – freshwater so far. Our favorites are pike and musky.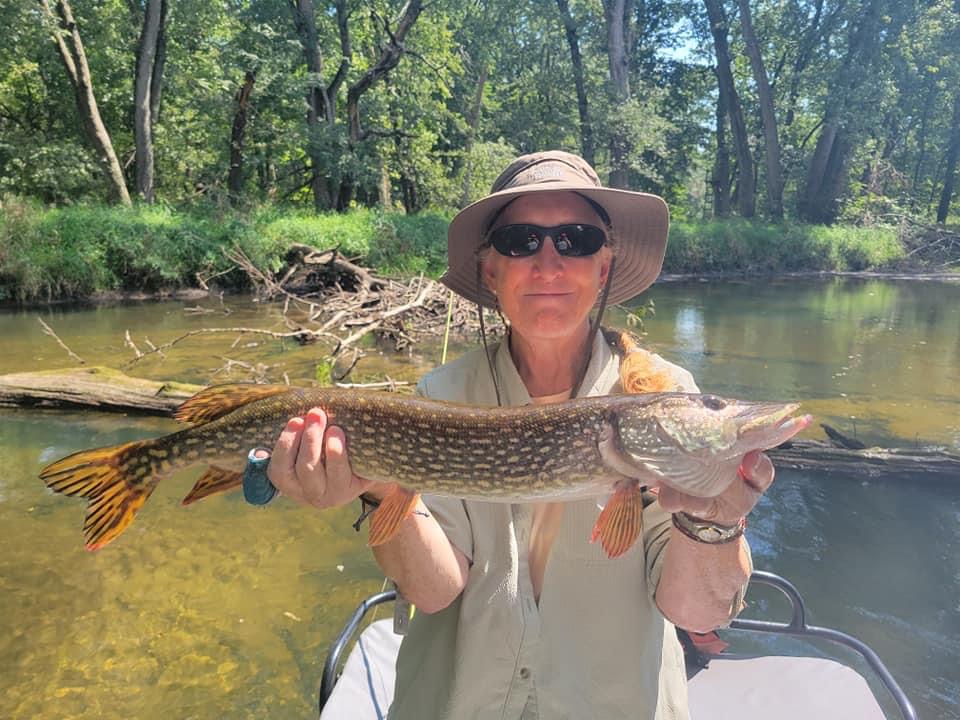 What gear is used to pursue that species?
We use 10, 11, 12 weight fly rods and Scientific Anglers fly lines – mostly sink tips (sonar Titan range 350 to 500 grain – dependent on fly). We make our own leader setups with about 3 ft of 40 lb. Trilene Big Game mono and use AFW surflon micro supreme 7x7 knottable stainless wire for the bite wire. I tie all our big flies. They range from 8 to 14 inches of various styles (mostly around 10"). You won't go wrong with flies similar to Chris Willen's Double Nickle.


Can you tell us how many days you spend on the water?
We spend 2 to 3 full days with lots of smaller local trips each month.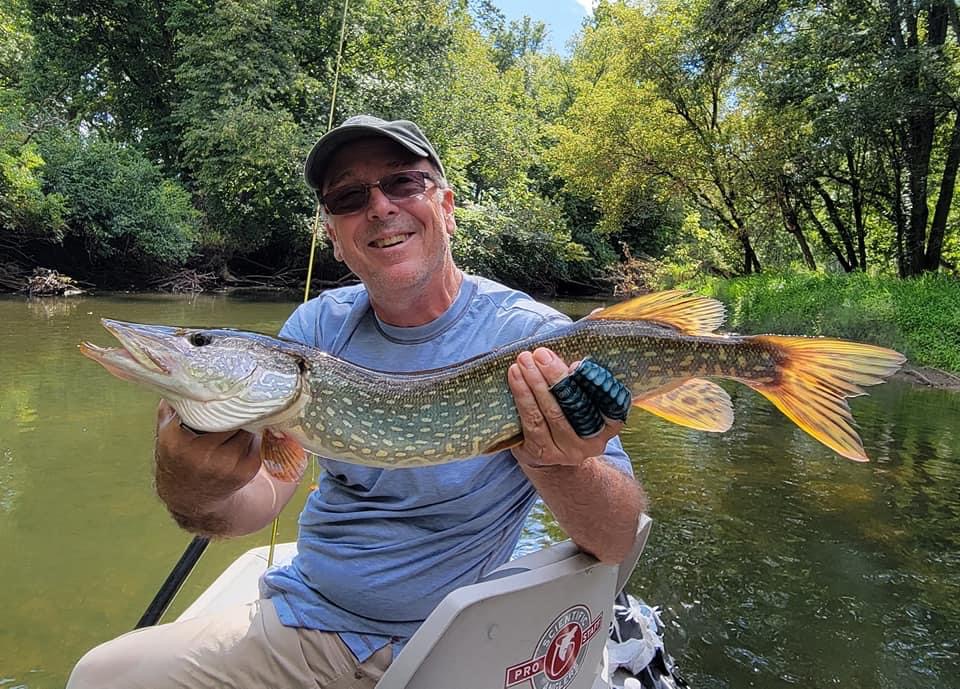 When did you start fishing?
We both started fishing as kids. Cari in south middle Michigan on small lakes. I fished the St Clair River, Lake St Clair and the Detroit River. Cari and I went to school at Michigan Tech in the UP. I lived in a cabin on the Portage Lake for a couple years. The Portage Lake has a great fishery, smallmouth, pike, walleye, steelhead, perch, sturgeon and more (even Brook trout on a small stream next to the cabin). Fishing there was all traditional gear. I tried fly fishing in 1978 while working for GE and taking a training class in Schenectady, NY. I bought a couple Fenwick fiberglass rods (7 & 5 weights) and headed to the Ausable near Lake Placid. Cari came out to visit and I took her to the AS. She asked what do I do? I told her to throw the fly out so it lands near the boulder about 30 ft away. Bingo she got her first trout and the only one for over 30 years. We started fly fishing again about 8 years ago and have loved it.


Who was it that introduced you to the fly fishing?
No one introduced me to fly fishing. Just took it up to ward off insanity while living in NY. I did have a friend there who grew up in PA and fished the limestone streams for bass. He introduced me to small stream fishing with spinning gear.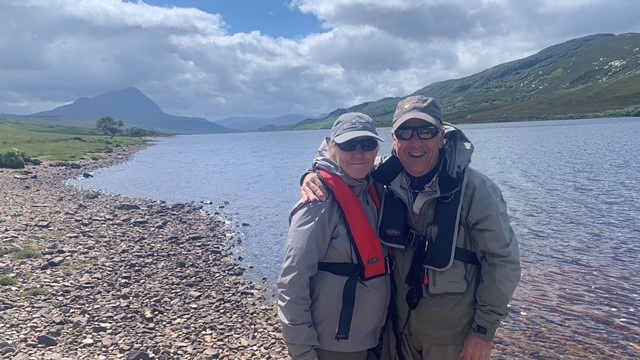 Can you explain what you get out of fly fishing?
Cari and I are both engineers. Engineers are strange people. They are never satisfied with easy. They must have problems, things to challenge them. Fly fishing has been a fit. It is a challenge. Casting, reading water, how to fish situations. Nothing is ever the same.


Do you have any tips for new anglers? Any tips for experienced anglers?
For new anglers I'd say find some local help. Get instruction from a local fly shop/guide or better yet join a local club. Our local club, Buckeye United Fly Fishers offers help with classes and trips. Members are always going to help someone starting out. One area that most new people don't work enough on is their casting. Learn from someone experienced. The better you can cast the easier it is to fish and enjoy the fishing. I would not recommend learning casting from YouTube videos and other fly shop videos without first having taken basic lessons. Our club does weekly casting help sessions every Wednesday morning.
For experienced anglers I'd say keep learning the sport. Try things new to you. Work on your casting. You'll enjoy the sport more. Also, help the new fly fishers. We were all there when we started.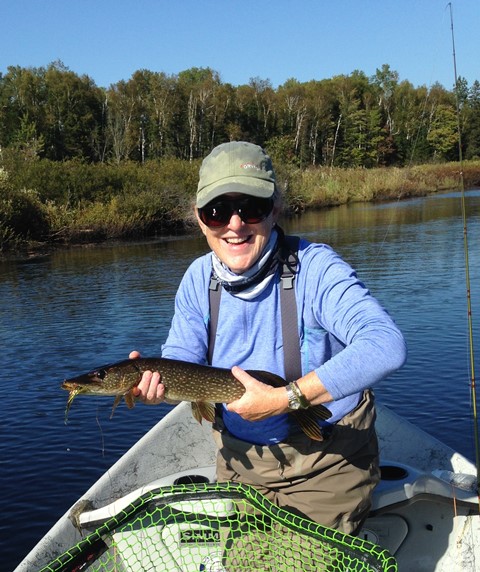 When was your first experience w/ RFR?
In Cincinnati there's not a lot of traditional fly-fishing venues. So, fly shops have come and gone. Besides one in Hyde Park there's not any local fly shops. RFR is the next closest shop about 45 minutes away. We went there when we started fly fishing again. It's hard to say when our first experience with RFR was. Matt Parker has done several talks and instructional events for our fly club. It was probably after one of those about 7 to 8 years ago.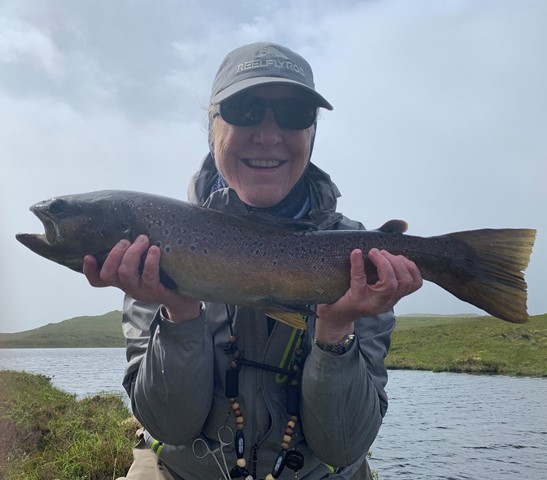 Why do you like shopping with us and continue to support RFR?
They are very helpful, willing to get items in for us to try on such as waders or boots. RFR almost always has a large inventory of fly rods. I won't buy one now without trying it. I bought Cari a new 6 weight fly rod recently. After calling a few shops we went to RFR since they had a good selection of rods we wanted to try. After trying out several similar rods Cari went home with a new Scott Centric.

Once again a huge thank you to Jim and Cari for taking the time to answer some of our questions!
You can view our previous Angler of the Month winners here.