The TFO Pro II was one of the most popular rods ever produced for its high-performance at a value price. The Pro II was a great rod that beginner to intermediate anglers could grab and do very well in any situation. The series of rods also offered a great solution for advanced anglers that wanted to fill out a gap in their rod quiver while not breaking the bank. When designing the Pro III, Temple Fork wanted to continue the legacy of the previous generation and provide to anglers great performance at an affordable price.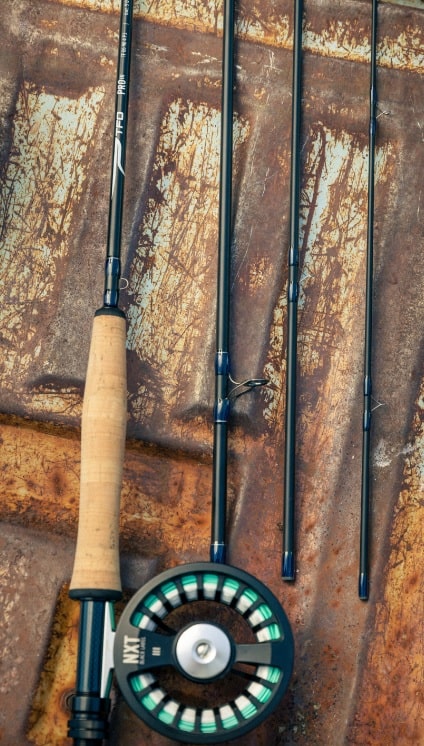 Performance
The Pro III rods are better than ever due to some changes that Temple Fork has made to blank. Now the rods will give a wider sweet spot throughout the blank which allows the angler to feel the rod load up more easily. Understanding and feeling where a rod loads is an important step in the journey of becoming a more competent and advanced caster, and the changes in the new series of rods make that journey much more easy.
Action
The Pro III action can be most accurately described as a medium-fast (leaning slightly toward fast) with a deeper progressive flex that anglers of any level will appreciate.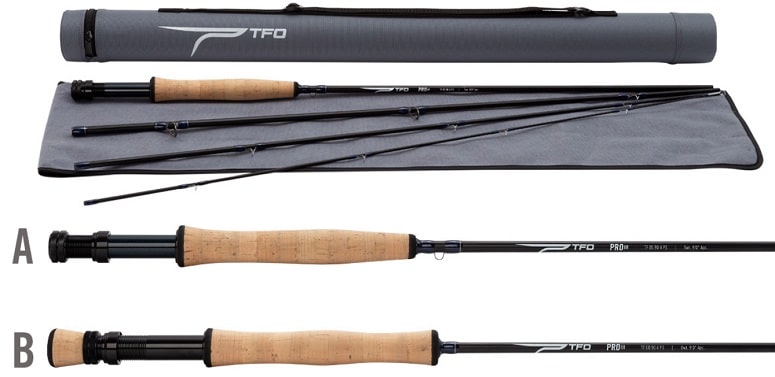 Components
Reel Seat
The reel seat has received an update with a new dark carbon fiber reel seat insert and high-quality anodized aluminum hardware. The 3-6wt models come with the new dark navy blue carbon fiber insert while the 6-10wt sticks will feature a full anodized aluminum reel seat.
Guides
The rods are topped with appropriately sized SiC style stripping guides and double-foot, anodized snake guides.
Cork
Pro III single-handed rods feature premium cork grip handles, (half and full-wells) with EVA foam accents. The 3-6wt rods come with a half-wells cork handle and 6-10wt rods feature a full-wells cork handle with fighting butt.
Fighting Butt
TFO has ditch the clunky, dated fighting butt with a thick diameter and opted for a more modern slim fighting butt.
Blank
The fan favorite matte blank remains which keeps glare from bouncing off onto the water, but this model has shifted from a slate grey to a dark blank color. The matte black is accented by white lettering which denotes the model and grain window.
Wraps
TFO has changed out the blank wraps for a clean, dark navy blue with silver tipping accents which make this rod an eyecatcher.
Rod Tube
One sticking point with the Pro II which many anglers found frustrating was the exclusion of a rod tube. TFO has heard those frustrations and now includes a durable cordura rod tube with every purchase of a Pro III rod.
Warranty
TFO has offered the same no-fault lifetime warranty on all its fishing rods since being founded in 1995. Today, the warranty program is a core part of the business and an area that TFO is constantly working to improve, so that it represents another value-based reason to be a TFO angler.
Models
Singlehand Models
The single-hand Pro III models include rods that cover everything from a pocket water 7'6" 3wt all the way to a heavyweight 9'0" 10wt stick.
Models: 7'6" 3wt, 8'0" 4wt, 8'6" 4wt, 9'0" 4wt, 8'6" 5wt, 9'0" 5wt, 9'0" 6wt, 9'0" 6wt w/FB, 9'0" 7wt, 9'0" 8wt, 9'0 9wt, 9'0" 10wt
Two-hand Models
There are six two-handed models with rods from lightweight trout spey, Great Lakes chuck 'n duck rods, and longer rods for shooting lines and sinking lines. Each two-handed rod features a gram and grain window on the rod which makes for easy line pairing.
Models: 11'0" 2wt, 11'0" 4wt, 11'0" 6wt, 11'0" 7wt. 11'0" 8wt, 13'0" 7wt
Other Resources