The Paradigm is the flagship rod of the impressive Thomas & Thomas lineup. Released in early 2020, the Paradigm made waves among trout anglers. Just like the original Paradigm when it was released 20 years prior, the newest iteration does one thing exceptionally well and that is dry fly fishing. The Paradigm won't be turning over double nymph rigs or chunky streamers effectively and consistently, it was designed for those old school, dry fly purists.
The ReelFlyRod Pro Staff had the opportunity to take the T&T Paradigm out on a recent trip to the Manistee River in Northern Michigan. The staff decided to the take a 9'0" 5wt rod, the most popular configuration of trout rods out there and the weight we are most comfortable recommending to customers who are just getting into trout on the fly.

Craftsmanship:
Everything about the Paradigm, just like the complete lineup of Thomas & Thomas rods, screams artistically crafted by hands focused on the small details. Handwritten serial numbers and alignment dots produces a classic look that sets Thomas & Thomas rods apart from other rod makers that mass produce their rods in the thousands.
The Paradigm is highlighted by the by a beautiful birds-eye maple wood space insert which looks great against the matte blue blank. Matte Titanium rolled hardware engraved with the Thomas & Thomas logo. Hand-written logo, serial numbers, and additional visual accents make the Paradigm an eye-catching rod.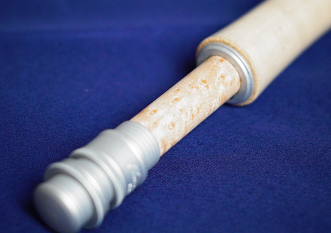 Every Thomas & Thomas rod is proudly made in Greenfield, Massachusetts and while T&T recognizes that it may be cheaper and, in some cases, easier to source materials from abroad, T&T recognizes that fact and stand by American craftsmanship, innovation, and quality.
Performance:
We used the Paradigm with the one of our favorites lines, one that we recommend to anglers that are mainly using dry fly tactics, the RIO Technical Trout. We timed up our trip to Northern Michigan with the widely renowned Hex hatch which made our time on the water very much enjoyable. We were able to use a variety of dry flies that ranged from Size 6 Brown Paradrakes to diminutive Size 22 RS2 Emergers. No matter the size of the fly no conditions, our crew felt confident in the Paradigm that it would deliver where and when it was needed with supreme accuracy and a soft presentation.
Here's what the RFR Pro Staff had to say about the T&T Paradigm:
"I was surprised at how smooth this rod was. The moderately slow action and deep flex gives some of the best dry fly presentations I've ever had" - Nate
"The Paradigm has a classic, deep flex that is almost like fishing a fast glass." - Kyle M.
"This rod is awesome, one of my new favorites for dry fly fishing. Great presentation, quick recovery, but enough of a backbone to fight lunkers." - Sean
"Great power at most distances where you are targeting trout. I had no problem punching into light wind up to 60ft+" - Parker

Technical Features:
Lightweight Titanium Single Foot REC guides
Matte Titanium finish roll-stamped hardware
USA sourced Bird's Eye Maple spacers
Beautiful new semi-gloss blue surface finish
Hand-written logo, serial numbers, and additional visual accents
Ultra-light rods with smooth, medium flex action for exceptional presentations.
Models: 8'2" 3wt, 8'4" 4wt, 9'0" 4wt, 9'0" 5wt, 9'0" 6wt
Other Resources:
Featured Products: