Calling any one pair of waders 'the best' can get to be a pretty touchy subject to some people who possess brand loyalty, but the truth is that waders are not a one-size fits all product. Waders can come in as diverse a range as the people that wear them. Brands each carry their own cut which can fit differently on every person.
The important things that you need to know when wanting to purchase a pair of waders are a few measurements: inseam, your largest girth (waist,hips, or chest) and your shoe size. With these three measurements you will be able to use various online sizing charts to determine which size waders are likely to fit you comfortably.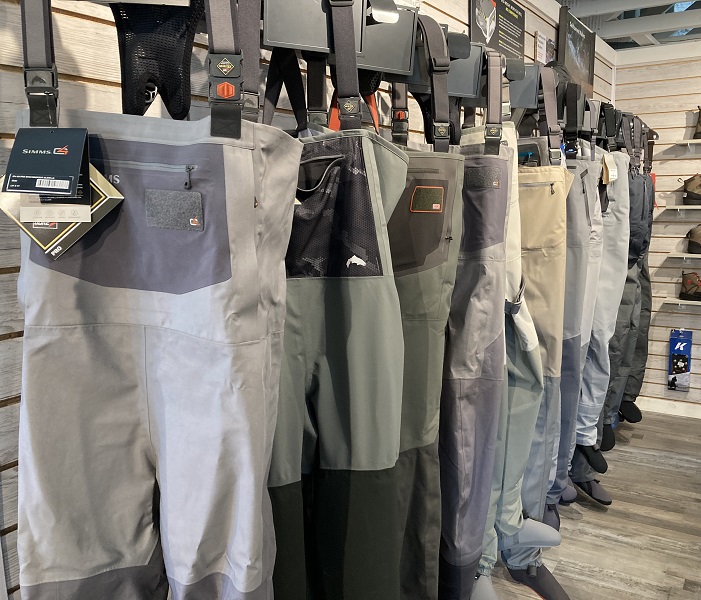 Things to keep in mind when searching for fly fishing waders for men:
What type of weather are you fishing in?
How many days per year are you likely to be wearing you waders?
How tough are you on your gear?
Are you putting on your waders right at the river or do you have a ways to hike in them?
What type of water are you wading?
What is the maximum amount of layers you expect to wear underneath your waders?
Superlatives
Best High End : Simms G4Z Waders
Redesigned in 2020, the Simms G4Z Waders had every part updated to become what we consider the best waders on the market. The Simms G4Z Waders achieve the ultimate in comfort, breathability, and durability. These waders were designed for professional guides and anglers fishing in the toughest conditions and our guides and staff stand by their performance. Built with 3-layer GORE-TEX Pro Shell Upper/4-layer GORE-TEX Pro Shell lower for rugged durability in the water and on the trail.
Best Budget Waders : Orvis Clearwater Waders
The Orvis Clearwater Waders represent one of the best values on the market for anglers that are wanting to get a pair of quality waders that will last for as long as you take care of them. Featuring 4 layers of waterproof breathable nylon fabric, worries of durability are a thing of the past. Orvis also designed the Clearwater waders with opposing side release buckles allowing the angler to convert to a waist-high option on the days the temps start low and end high. Not stopping there, Orvis also included small luxuries such as handwarmer pockets, anatomical neoprene booties, a storage pocket, and integrated gravel guards.
The unique cut of the Orvis Clearwater Waders ensures that no matter how many layers you wear underneath, you are going to be comfortable without all of that bulk.
Best Zipfront Waders : Patagonia Swiftcurrent Expedition Zip-Front Waders
Four-layer, waterproof shell, the Swiftcurrent Expedition Zip-Fronts have been engineered for enhanced comfort, mobility, and durability which make them one of the finest pair of waders on the market. The Swiftcurrent Expedition Waders are the heaviest weight, most full-featured waders, and feature a new, fully waterproof front zipper and an adjustable quick-release suspender system so conversion from chest to waist height is precise and quick. These are great for those anglers that are on waters which are cool in the morning but begin to heat up quickly as the day drags on.
Best Wading Pants : Patagonia Swiftcurrent Wading Pants
The perfect choice for anglers that are hitting those cold spring waters on hot summer days. The Patagonia Swiftcurrent Wading Pants feature the same durable construction that is found in all Patagonia Waders. Weighing in at just under two pounds, these pants are great for those that need to hit the hiking trail before getting to their favorite fishing hole. Gusseted crotch, articulated legs make the Swiftcurrent Wading Pants
Best Warm Weather Waders : Simms Flyweight Waders
The Simms Flyweight Waders are currently the most flexible waders for men on the market. Extremely comfortable but also very durable. These are the waders that we are grabbing if we need to hike out to our favorite honey holes through tough terrain. The Flyweights also boast best in class waterproof-breathability for guaranteed dry performance, day in and day out. One of our favorite things about the Simms Flyweight men's waders is the ability to allow you to attach Simms accessories like storage pods, net holsters, and water bottle holster with ease and rigid security to the 5.11 HEXGRID attachment system.
Honorable Mentions: Orvis Ultralight Convertible Waders
Best Cold Weather Waders : Patagonia Swiftcurrent Expedition Waders
The best of the best in cold weather protection, the Patagonia Swiftcurrent Expedition men's waders live up to the hype and are among our favorite pair of waders for men. Despite their excellence in cold water protection, the Swiftcurrent Expedition Waders are still extremely comfortable and are built to exceed in situations where you may need to be a bit of an athlete while dipping and jumping around obstacles. Excellent movement, heavy-duty construction, and warmth in cold situations are all hallmarks of the Patagonia Swiftcurrent Expedition Wader.
Featured Products:
Other Resources: